If you haven't subscribed, you WILL MISS WEB-ONLY SALES OF UP TO 30% OFF!
Sign up for FREE Gemstone newsletter!
Learn Which Gemstones Can Help You Fulfill your heart's desires . . .
Find out how different types of gemstones can affect the various energy centers of the human body (and just what are these energy centers, anyway?), how gemstones can alter your moods, elevate your levels of awareness, and help you focus wherever in your life that you need to focus.
Why has Lapis Lazuli been a favorite gemstone of royalty? Why is Amethyst said to increase intuition? Why are Aventurine, Peridot, and Rose Quartz said to bring balance, peace, and a greater ability to forgive others? Which stone is called "the Artist's Stone" because it can enhance creative energy? Learn all these things and more by subscribing to Deerkiss Hollow's FREE exclusive email newsletter, "GEMSTONE JOYS". Plus, you will receive notice of SECRET sales of 15% to 30% off, available only to newsletter subscribers.

Sign up for FREE Newsletter Here:
Benefits of wearing different gemstones
Updated October 3, 2018



MAJOR CREDIT CARDS and PAYPAL accepted
on website orders
FREE SHIPPING within the USA on orders of $60 and above

Upcoming Show Schedule

Genuine Carnelian and Citrine:

Songbird Pendant Necklaces
(will be available at Art in the Park, July 14-15, 2018)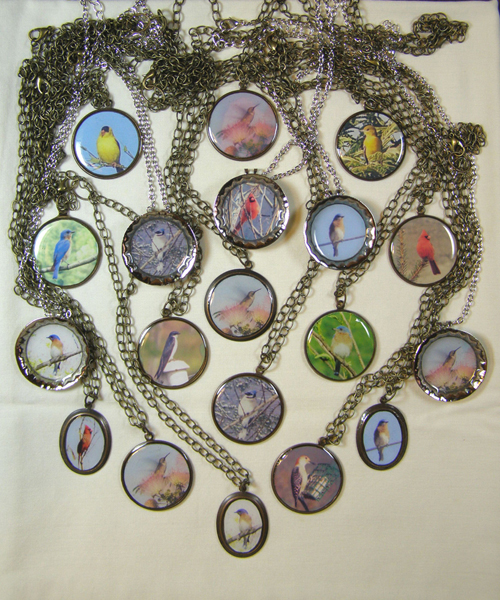 The following set is still available. There is much more that has not yet been uploaded to this site:
PRESS RELEASE September 25, 2013
Sign up for FREE Newsletter for secret website sales
If you are not a newsletter subscriber, you are missing our Web-Only Sales.
Don't miss future sales!
SIGN UP FOR FREE NEWSLETTER NOW!