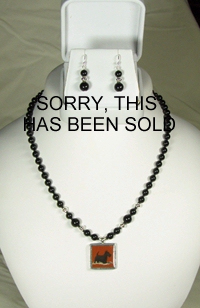 "Scottish Terrier with Black Onyx"
SORRY, SOLD
Scottish Terrier, or "Scottie" pendant, almost 1 inch in length, hangs from sparkling Black Onyx beads, which gives the Scottie the class that it deserves! Ear wires are Sterling Silver and of a heavier-than-average gauge. All other metal is silver-plated. Onyx, according to Melody in her book, Love is in the Earth, can help one to recognize one's own strengths and to absorb higher energies in order to gain self control and become a master of one's destiny.
Necklace Length:
16¾ - 19½"
SOLD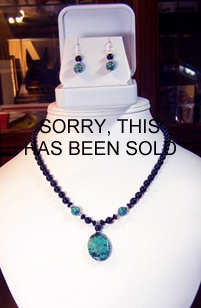 "Blue-Green African Turquoise"
SORRY, SOLD
African Turquoise is a trade name for a type of blue-green jasper mined in Africa. To bring out the beautiful color, it is often dyed. You will love this color, just the perfect mixture of blue and green! Oval pendant is 1" long, topped by a 6mm Black Onyx bead, bringing the overall length of the center drop to just over 1¼". Classy Black Onyx beads finish the necklace and earrings. All metal is Sterling Silver, including the ear wires, which are of a heavier gauge to help prevent loss.
Necklace Length:
16¾" - 19½"
SOLD