"Cairn Terrier with Golden Lace Agate"
Cairn Terrier puppy pendant, almost 1" in length, graces this necklace of Golden Lace Agate. Ear wires are Sterling Silver and of a heavier-than-average gauge. All other metal is silver-plated. Golden Lace Agate, sometimes called Golden Leaf Agate, exhibits bands of golden brown, yellow ochre, light brown, and tan. Like all agates, it is said to promote balance between the physical, emotional, and mental bodies, thus facilitating decision-making.
Necklace Length:
16½ - 19¼"
$49.00 for set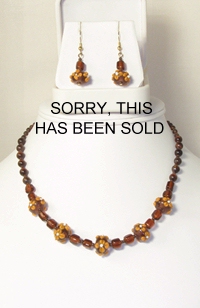 "Autumn Debut"
SORRY, SOLD
This ornate, handmade lampwork glass celebrates the rich hues of autumn, but can be worn anytime of the year! Rich brown and bright yellow-orange floral designer beads are spaced with handmade East Indian brown glass cylinders with tiny brown seed beads in between. Necklace is finished with Red Tiger Eye and gold-plated lobster claw clasp and extender chain. Earrings include nickel-free gold-finished ear wires and feature matching floral brown and orange glass beads.
Necklace Length:
16½" - 19¾"
SORRY, SOLD