Larvikite and Moonstone Necklace and Earring Set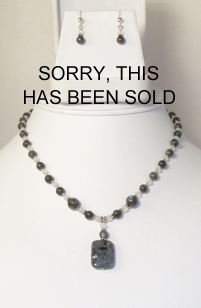 "Larvikite & Moonstone"
SORRY, SOLD!
From Larvik, Norway, Larvikite features a pearlescent sheen of metallic light grey and charcoal grey, with hints of steel blue. Rectangular Larvikite pendant is topped by Larvikite and Moonstone rounds, with Sterling Silver spacers. Necklace contains Larvikite and Moonstone rounds, Sterling Silver spacers, and tiny Sterling Silver rounds and is finished with silver-lined glass seed beads and Sterling Silver lobster claw clasp and extender chain. Larvikite, Moonstone, and Sterling Silver spacers hang from post-style earrings with 3mm Sterling Silver ball.
Necklace Length:
15" - 18¼"
SOLD