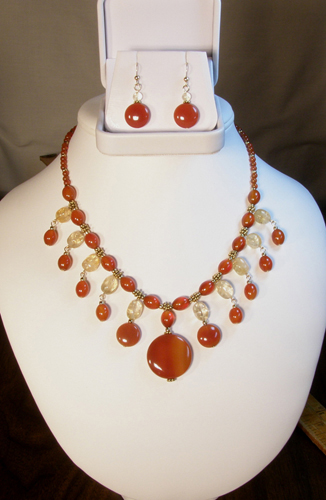 "Princess Autumn"
Brilliant and sparkling, just like autumn leaves on a crisp, sunny day! Truly fit for a princess, this gorgeous set is sure to cheer you up with its glowing, genuine Citrine and radiant, genuine Carnelian. Citrine is said to help you spread sunshine to others, and Carnelian enhances your artistic creativity and helps transmute any feelings of envy and selfishness. All metal in both necklace and earrings is gold-filled, including wire, spacers, ear wires, lobster claw clasp, and extender chain.
Necklace Length:
18¼" - 22½"
$85.00 for set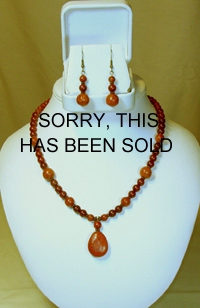 "Courageous Coral"
SORRY, SOLD
Center drop consists of a 1" long orange Sponge Coral thick teardrop, topped by an antique brass finished spacer and a 8mm Sponge Coral bead, bringing the overall length to 1 3/8". The larger beads in the body of the necklace are Sponge Coral; the smaller ones are 8mm Coral Jade, except that the necklace is finished at the ends with 6mm Sponge Coral. All metal is antique brass finished, including extender chain and lobster claw clasp. Ear wires are antique brass finished, and earrings consist of 12mm Sponge Coral, antique brass finished spacers, 8mm Coral Jade, and 6 mm Sponge Coral. Naturally occurring in an orangish-red color, Sponge Coral is more porous than some other types of Coral. It is first stabilized, and then dyed to enhance the color. Coral in general represents the energy of cooperation and diplomacy. Coral is said to strengthen the circulatory system and the bones and to help in tissue regeneration. This Coral, with its red-orange color, can bring vitality and optimism to the wearer
Necklace Length:
19½" - 22¼"
SORRY, SOLD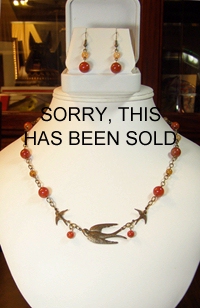 "Barn Swallows with Carnelian"
SORRY, SOLD
Uniquely hand-designed and handcrafted by Adele Wilson, lovely antique brass barn swallow focal is flanked by 2 smaller barn swallows and tiny orange Carnelian beads. All round beads are genuine Carnelian in orange and yellow orange, and all metal is antique brass. Earrings have antique brass ear wires, with tiny and larger Carnelian hanging from them to match the necklace.
Necklace Length:
21¼" - 23¾"
SOLD