"RED MALACHITE" *
AND RED HAIR MARBLED JASPER
Matching Gemstone Necklace and Earring Set

*RED MALACHITE is actually a type of JASPER.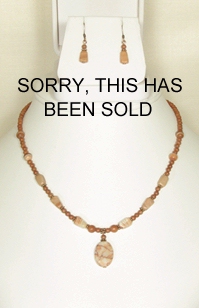 "Sonora Sunset"
SORRY, SOLD!
Oval pendant is Red Hair Marbled Jasper, sometimes called Red and Cream Picasso Jasper (marbling is actually orange, not red). Round and rectangular beads are Red "Malachite", a TERRA COTTA color. Antique copper plated spacers, jump rings, extender chain, and lobster claw clasp. Antique copper plated fishhook earwires with Red "Malachite" round and rectangular beads with antique copper plated spacers.
Necklace Length:
16 ¼ - 18 ½"
SOLD