Turquoise Blue Color
Matching Necklace and Earring Sets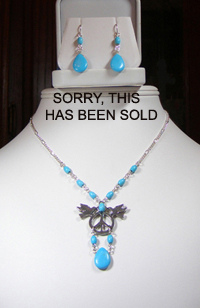 "Peace Doves"
SORRY, SOLD
One of a kind! Uniquely hand-designed and handcrafted, this delicate, turquoise-colored set inspires feelings of tranquility and harmony. Metal part of necklace centerpiece is lead-free pewter, made in the U.S., measuring 1 1/8" by 1 1/2". Teardrop beads at center of necklace and in earrings measure 5/8" in length. Overall length of necklace's center drop is just over 2". Metal in necklace is silver-plated, but all metal in earrings, including ear wires, is Sterling Silver. Beads are dyed Howlite.
Necklace Length:
17¼" - 20¼"
SOLD
Back to Jewelry by Color

Jewelry by Gemstone